Who Cares About Wedding Ring Insurance?
The biggest day of your life has arrived – Your Wedding Day and the last thing on your mind is wedding ring insurance!  The day is magnificent and you both sail off on you honeymoon to Bora Bora! Prior to tying-the-knot you have planned appropriately. You contacted your insurance agent to update your maiden name to your new married name, combined your auto policies, purchased a renters/home insurance policy and 2 new life insurance policies. Well done!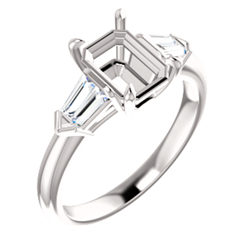 Even on the plane ride you can't stop starring at this gorgeous rock that your partner picked out for your engagement ring! It's a gorgeous piece of gemology. The cut, clarity and color are high grade. $15,000 is a big investment, but you and your spouse picked this exact ring to remind you of your vows and commitment to one another. Besides, you have a renters/home policy and you are covered – right?
Wedding Ring Insurance Claim
That is the question – You just returned from Bora Bora with an amazing tan, memories for a lifetime, jet lag and oh, yes, no engagement ring. It slipped off your finger and is somewhere in the clear blue ocean waters or elsewhere on the French Polynesian islands. No worries, when you get home you'll call on your insurance company to make a claim.
Happy Day! Your Wedding Ring Is Covered! Sort of…
Yes you are covered! Your insurance company will be sending you a check for $500. That's the $1,500 limit for a single piece of jewelry minus your $1,000 deductible – vwhalla – a check for $500.00. Wow That's Fantastic! NOT!
Wedding Ring Appraisals
Here's the best way to get wedding ring insurance. First you obtain an appraisal from your local jeweler. This appraisal shows an insurance company the exact details of your ring and stone. Give the insurance appraisal to your independent insurance agent. They will add a personal articles floater or endorsement to your home/renters policy. You pay approximately $7 per thousand dollars of insurance on your ring. You choose to have agreed value ($15,000.00) and a zero deductible. The cost to properly insurance your wedding ring is about $105 a year.
Back to Bora Bora…the ring falls off your finger or the stone pops out because the setting is too loose, or the ring "mysteriously disappears". You call your insurance professional and he returns with a check from the insurance company for $15,000.00. Hugs and Thanks are exchanged, you go to the jeweler and buy a new ring.
Every Home Insurance Policy Has Jewelry Limitations
Each home insurance policy will have internal limits for losses to jewelry, watches, furs, guns and collectibles. At The Pacific Insurance Agency we are happy to review your home insurance policy and make recommendations tailored to your needs. As an independent agency we offer coverage options with many top insurance companies to make sure that you have the proper Wedding Ring Insurance. Feel free to contact us at 520-886-3066 or www.pacins.com.